Rethink your eCommerce app with Live Monitoring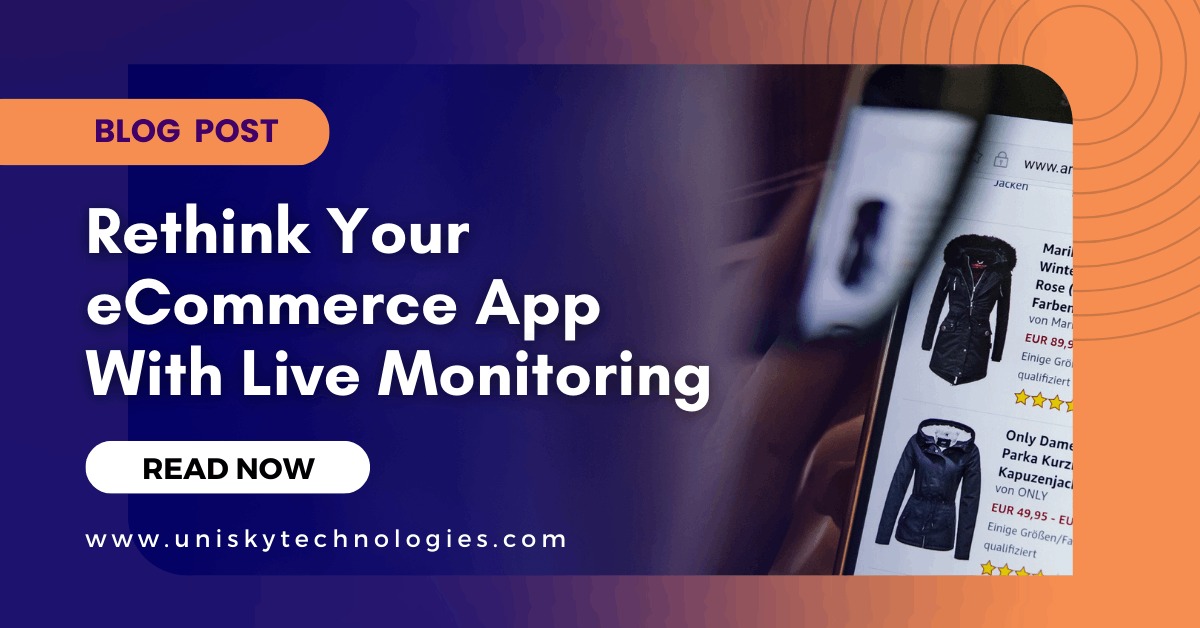 eCommerce has accelerated the online retail industry to a whole new level. The top digital players have fully integrated e-commerce and digital sales to adapt to shifting consumer behaviours. The recent pandemic has opened floodgates for online retailers to introduce new products and services, and deliver them to customers faster than ever. While the competition seems never-ending, application performance monitoring is instrumental for e-commerce companies to sustain growth.
Monitoring your e-commerce application is as essential as the application's availability itself. Numerous challenges are addressed all the time when it comes to handling the traffic, cataloguing, third party integrations and more importantly, the performance errors across different functionalities within the app. All these issues can be solved in real-time when you have a live monitoring strategy for your e-commerce application.
Statistics based on e-commerce application performance monitoring
Real-time monitoring enables a 52% faster response rate on technical issues. – Chartio
Slower page response time leads to an increase in page abandonment, with around 40% of users stating that they abandon a page if it does not load within three seconds. For online retail giants, like Amazon, a similar delay would be catastrophic, resulting in estimated lost sales of USD 1.6 billion per year. – Mordor Intelligence
Mobile accounts for more than half of e-commerce traffic - Yotpo
Considering the above facts, it's quite clear that performance monitoring is critical to your e-commerce success. You've invested in improved digital infrastructure, creative cataloguing, content and marketing but without a monitoring strategy, everything can fall apart.
The performance of your web application can make or break your growth efforts. It has to be real for a good shopping experience which in turn affects your revenue, loyalty, and reputation. Organizing a live monitoring mechanism helps to balance risks and deploy an error-free app that exceeds customer expectations. Live Ecommerce Monitoring is a useful tactic to enhance your ecommerce website and app efficiency. Let's dive deep into what you get from it.
1. End-user experience monitoring
User-driven monitoring is more efficient and reliable than an automated one. A real user perceives your target audience. Hence, end-user monitoring can provide you with valuable insights by studying and capturing technical issues critical to customer's journey.
2. App Exception/Error Detection
There can be different types of errors leading to interruptions while your customer goes through your app. Live monitoring detects it instantly and enables your IT team to provide a real-time response for the customer to continue shopping.
3. Bottleneck Diagnosis
Before you solve the technical error, the key is to understand it first. Few technical errors can also be driven by third-party. A consistent app monitoring method can easily help your IT team to categorise the bottlenecks and deliver problem-solving responses.
4. Application Troubleshooting
Live monitoring for e-commerce applications is central to the whole troubleshooting process. Once you've diagnosed the error, it's time to troubleshoot the API to detect similar issues and ensure they don't arise again. Thus, live monitoring is absolutely important for confirming every app function.
5. Performance Optimization
Technical enhancements in the app code and their impact across the application components can be easily understood by live monitoring. This will help your IT management department to optimize the app's performance making the brand achieve a significant competitive advantage.
6. App Data Analytics
Resolving issues and implementing improvements isn't the only benefits of live monitoring. The data gathered and stored during the live monitoring process is what defines the future compatibility of your application. You can study the app performance data to make better decisions.
The consistent performance of your e-commerce app is dependent upon monitoring and diagnosis. Technical issues adversely affect your e-commerce sales. Outsourcing your app monitoring to a reliable monitoring partner can bring the change you've always wanted for your app performance.
Also, check our article on End-user Monitoring to Improve Banking Customer Experience, that will help you attain stability.